After returning from Greece, I also made a short jaunt to Slovenia and Croatia, which thanks to
the breakup of Yugoslavia
twenty years ago means I get to add two countries to the list of places I've been (lifetime total up to fourteen, from just four one year ago). Slovenia being one of Austria's neighbors, I also got one step closer to
my arbitrary ambition
of visiting all eight of its bordering countries (6/8=75%). I look forward to being done with that list so I can cross it off my list of lists to cross off. "Obsessive tendencies" remains on my list of character flaws to work on.
Like many small cities in Austria,
Ljublana is almost to cute to function.
Well as for the trip, I had fantastic weather and a fantastic time. In just one day in Slovenia I learned what the capital city is called (
Ljubljana
), how to pronounce it (
loo-bee-lanja
), and even a few words of Slovene (
Hvala
= hello). An interesting note about the Slovenian language, which by the by is not the same as Croatian, is that its one of very few languages that have different
declensions
for the singular, plural,
and
dual forms of nouns. Ordering beer in Slovenian is good practice:
pivo
= 1 beer
, pivi
= 2 beers,
piva
≥ 3 beers.
But outside of that boring stuff, Ljubljana is really purty (see right).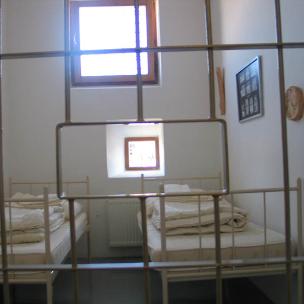 The hostel/former prison where I did
not stay.
Whilst there I met two Slovenians at a Slovenia v. Albania soccer match party who introduced me to a Ljublana hotspot they claimed was the world's most famous hostel - Hostel Celica - on the grounds of a former Yugoslavian prison. This area of the city was like a city in itself, with >10 bars, people who appeared to live in said bars, other squatters, artist workshops, etc.
I also made friends with an itinerant Australian (they seem to be everywhere here), with whom I travelled to my next destination: Zagreb, the capital of Croatia. He hitch-hiked while I shelled out for the train, but I think it goes without saying that I won that race.
Although Zagreb is a lovely city with plenty of culture, history,
Dalmatian chard
, bargain beer, nice architecture, and Eastern Bloc architecture, I think I would have preferred a trip to the Croatian coast, which I hear is absolutely lovely. Another downside of my trip to the city was my narrow, harrowing escape from a 200 kuna ($40) fine for black riding on the Zagreb tram system. Not speaking a word of Croatian helped.