Two months ago the USPS delivered a real treasure to my address here in Maine - the bike I'd be riding across the country with - a 59cm Giant Defy 2. My bike and I hit it off right away and just yesterday I rode my 500th mile of training on it.
My new bike on its first ride, back in
March, to Reid State Park near
Georgetown, ME.
I broke that barrier somewhere near Lisbon, ME (
one of many Maine cities and towns that are comically named after distant, exotic, and unrelated locations
) during a trip from Bethel, ME - home of Sunday River Ski Resort, Gould Academy, and, seasonally,
the world's tallest snowman
- to Bath, ME - home of me. In order to get to my starting locale, I rode a bus along with the Hyde School men's lacrosse team, who had a game in Bethel (Go Phoenix!).
Along my slightly downhill ride back home I passed through the beautiful town of Greenwood, alleged birthplace of L.L. Bean. I also passed through the towns of Norway and Paris before stopping for a snack in Mechanic Falls. Just two miles after my lovely stop a badly intentioned piece of gravel gave me my first flat tire of the season (damn stock tires!). I was able to change the tube quickly enough, but I couldn't inflate the new tube enough with my crappy hand pump, which made for a difficult ride back.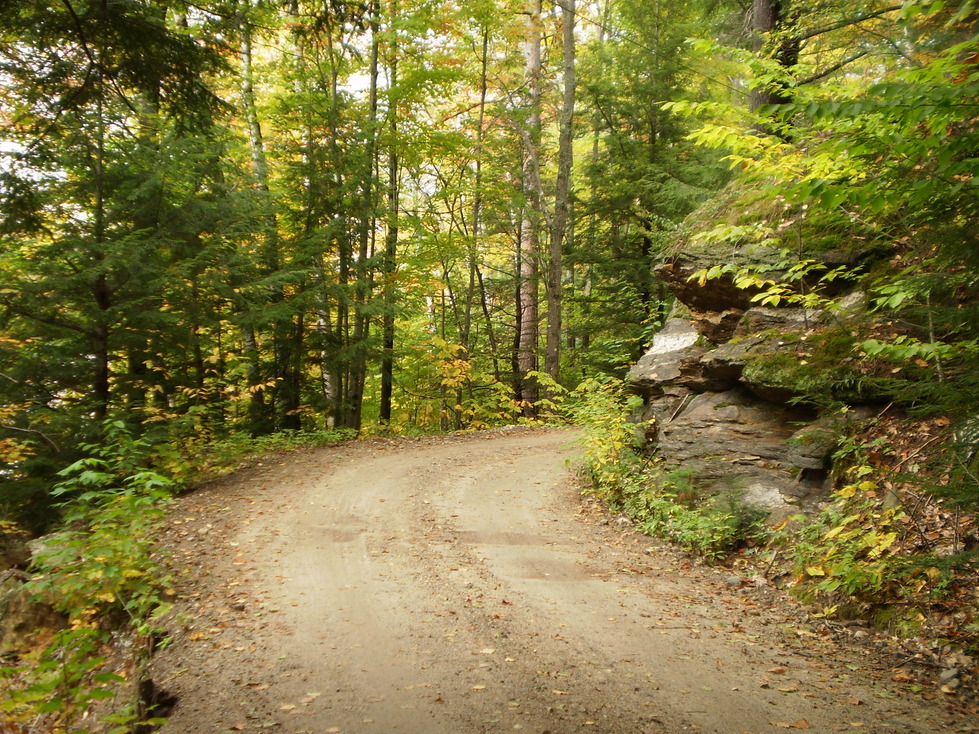 Beautiful paved road in Greenwood that
betrayed my trust by turning into gravel.
Although I intended to ride all the way to Bath, by the time I arrived in Brunswick (about 9 miles to the west), it was too dark and foggy to continue, so I stopped and enjoyed some Brunswick delights - awesome Indian food and Gelato Fiasco for dessert. At first my ego was a little sore at having failed to reach my original goal, but ultimately Bethel to Brunswick is still pretty far and, in my defense, I was extremely hungry.
Mileage for the day: 70
Riding time: 4:20
Flat Tires: 1